...exciting days and comfy nights in Scotland's only wooden bodied camping coach...
The Camping Coach is a GNSR 3rd Composite Brake Carriage body built at Inverurie in 1916. It is a testament to the worksmanship of the time, that although the outside of the vehicle has been completely re-skinned, it is the steel sub-frame and oak body framing, which has preserved it for so long.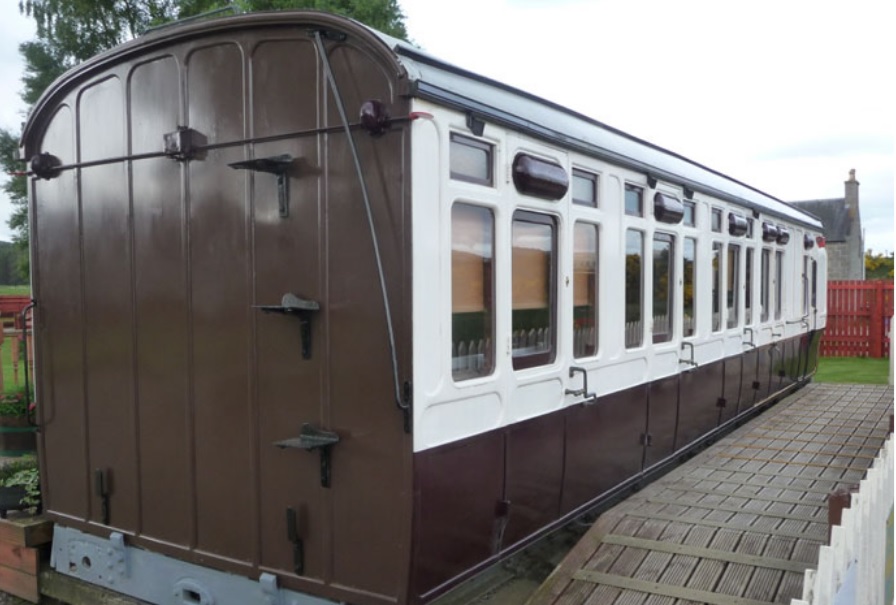 The original three 3rd Class compartments have been modified with a short corridor giving access to a bathroom and the sleeping compartments. Both sides of the coach have doors which open onto well-proportioned wooden decks.
A full list of the facilities is shown on the Floor Plan and internal photographs (click images to enlarge):
The coach is ideal for four people, with emphasis on comfort and warmth. Each bed is fitted with memory foam mattresses, electric blankets and bedside lamps. Towels and bedlinen are provided. All rooms have individually controlled heaters and the Kitchenette (former guard's van) has a gas heating stove, and a TV with DVD player.
Both bedrooms have strap operated windows, and door access onto the Sun Deck, but these can be locked from both sides. There are also outside bunkers (which can also be locked) for out-door gear.
The Kitchenette is fully equipped with cooking and eating utensils. Tea, coffee etc. are provided within the rent.